we've said it before: the "DEEP STATE" INSANELY CORRUPT "establishment" TRAITORS WAR ON AMERICA and against the American people is really the SATANIC JUDEO SUPREMACISTS, ZIO-NAZI WAR to DO TO AMERICANS what JEWS ENGINEERED OTTOMANS, TURKS, & KURDS TO DO TO ARMENIANS - EXTERMINATE THEM! - and what the JEWS ARE DOING TO PALESTINIANS as we speak. AND THE MOST VIRULENT FORM of CONQUER, ENSLAVE, subjugate.... ERADICATE, and EXTERMINATE the 'goyim'!" Judaism IS CHABADNIK JUDAISM - the "FAMILY DEATH CULT" of President Trump's daughter, Ivanka Trump Kushner!
let us preface this by saying IN NO WAY do we enjoy writing this post, or connecting these dots that paint such a grim, horrific picture... nor do we even like delving or researching in to the dark history of imperial, Zio-Nazi Judaism, which stretches back not just 200 years to the "modern" industrial era of the 1800s, but for 2,000+ TWO THOUSAND years the JEWISH DIASPORA has HATED & LOATHED THEIR NEIGHBORS - even in the most open and accommodating countries - albeit the first few waves of Jewish migrants/immigrants to a new host country DO INTERMARRY with, become business partners with, and mix with their host peoples.. exactly AS THE BIBLE TELLS US that JEWS under Joseph's father Jacob - RENAMED "ISRAEL"! - MOVED TO EGYPT SEEKING GREENER PASTURES, and PLEDGING LOYALTY & PEACEFUL COOPERATION with their Egyptian hosts.... only, a few short generations later, coming to HATE, LOATH, & DESPISE EGYPTIANS... and WISHING, IMAGINING, or PRAYING FOR DEADLY PLAGUES to AFFLICT THEIR HOSTS who, to repeat, just a few generations before were their FRIENDS, ALLIES, in-laws, & neighbors!
First daughter IVANKA TRUMP kushner
MAY NOT PARTICIPATE in SRA
"Satanic Ritual Abuse"
rapes, tortures, & murders of children
and drinking of their blood...
but she CERTAINLY RUBS SHOULDERS
among the NY "glitter" high society
ILLUMINATI "elites"
with those WHO DO!
IN ADDITION TO WHICH,
SHE ABSOLUTELY *
SUPPORTS
*
the GENOCIDE EXTERMINATION
of PALESTINIANS -
Muslims *
and
*
CHRISTIANS
!
men, women AND CHILDREN!
- in SATANIC JEWS' OCCUPIED PALESTINE
IVANKA TRUMP - converted Jewess by marriage -
IS A REAL LIFE ESTHER - the JEWISH VERSION of ISHTAR,
GODDESS of WAR who SLAUGHTERS HER ENEMIES by the THOUSANDS!
IVANKA TRUMP kushner IS NO independent for peace and justice for Palestinians
in the israel - JEWS! - Palestinian conflict...
SHE SUPPORTS the EXTERMINATION & ERADICATION of PALESTINIANS
INCLUDING CHILDREN... so to make way for "god's chosen people."
THIS IS JUST ANOTHER JEW BAIT & SWITCH -
TELLING Us AMERICANS that WE ARE "RACISTS!" for wanting secure borders
to better be able to control our lives, culture, economy & etc...
WHILE THE JEWS ACTIVELY WAGE GENOCIDAL EXTERMINATION
and IMPERIAL EXPANSION against THEIR neighbors!!
BLOWING UP FAMILIES - MURDERING CHILDREN!
IS what ISRAEL "occupation" policy...
and U.S. "foreign policy" IMPERIAL GENOCIDAL WARS PROFITEERING
under ZIO-NAZI, SATANIC JEWS are all about!
to repeat, MURDERING, KILLING infants & children
IS WHAT JEWISH, Judeo EXPANSIONIST,
GENOCIDAL IMPERIALISM policy is all about...
SUPPORTED BY EVERY JEWISH TEMPLE in America...
IN PARTICULAR by the INSANE CHABADNIKS,
"every observant JEWISH MAN shall have 2,800 GENTILE SLAVES"!!!!
Truth is STRANGER THAN FICTION....
IVANKA TRUMP is a REAL LIFE embodiment of the FICTIONAL Jewish bible heroine ESTHER...
who, in turn, was MODELED on the PAGAN GODDESS of LOVE... & WAR, ISHTAR!!!
Ivanka Trump Kushner is a REAL LIFE ESTHER!
the jewish heroine MODELED ON THE ancient Near East PAGAN GODDESS ISHTAR, the ONLY woman to have a bible chapter named after her - synonymous with the WHOLESALE SLAUGHTER of THOUSANDS of Persians after the DUPE Persian king DUMPED HIS QUEEN and was seduced by the beautiful young Jewess - that he didn't even know was Jewish!
ESTHER was a CONCUBINE & ACOLYTE of ISHTAR -
the Ancient goddess of LOVE.... AND WAR !!!!
THE JEWISH HEROINE is NAMED AFTER A PAGAN GODDESS!
IT'S RIGHT THERE IN your "holy"
damned
bible!
BEFORE he was the JEWS "ONE & ONLY
god
" ...

the JEW GOD YAHWEH was JUST ANOTHER
AMONG MANY PAGAN GOD!
Thus - by DELETING, "REVISING" these very simple historical truths;
the JEWS have been CONTROLLING THE NARRATIVE -
STEALING PAGAN MYTHS, themes, practices and EVEN GODS
they INCORPORATED IN TO their bible Judaism
WITHOUT giving A LICK OF CREDIT - for over 2,500 years!
and while the BIBLE stories of MOSES, ABRAHAM, EXODUS, and Joshua's "Conquest of the holy land" ARE ALL PURE FICTION! -
MOSES NEVER LIVED, and neither did Abraham, Jacob, Joshua, or Joseph; , although they are all based on COMPOSITE PORTRAITS of similar men and tribal leaders who came before them -
IVANKA TRUMP kushner IS A REAL LIFE ESTHER, aka ISHTAR.... the ancient Near East PAGAN GODDESS OF LOVE & WAR upon whom the "Western" Greek & Roman goddesses Venus, Dianna, Aphrodite, Athena, & Artemis
JEWISH 'PURIM' MASSACRE CELEBRATION -
JEWESS HEROINE Esther as Concubine and Acolyte of Ishtar
Correlated to the March 22nd "ISIS" TERRORIST BOMBING in Brussels
by Katherine Frisk March 23, 2016
https://theinternationalreporter.org/2016/03/23/march-23rd-purim-esther-as-concubine-and-the-acolyte-of-ishtar/
"Esther was what you would call an undercover agent today, a honey-pot and a secret service infiltrator."
The celebration of Purim is a yearly ritual and is enacted and carried out in the Judaic tradition in the last days of winter before spring arrives.
A brief synopsis of the story behind Purim
As a young child Esther was orphaned and adopted by Mordecai. When she came of age he sold her into the King's Harem. Eventually the King became so enamoured with Esther that he made her his Queen. Due to Esther's influence over the King, Mordecai was given permission to slaughter his enemies, every man woman and child. Not only were the people responsible for plotting to kill the Jews murdered, but also whole families, the innocent, who had been caught up in this political disaster.
We see the same thing happening in the West Bank and on the Gaza Strip today. The innocent are murdered, their homes are destroyed, their olive trees are cut down and their land is taken from them in yet another "holocaust," reminiscent of Purim.
The celebration of Purim is the celebration of the holocaust that took place when the Jews in Persia, during the Babylonian exile, laid waste to almost 100,000 people thanks to an edict granted to them by King Ahasuerus and made possible due to Esther's position in the King's palace.
The Middle East for thousands of years, even in the 21st Century, regards women as commodities. Young girls are sold into slavery, prostitution or both. Many young girls who are exceptionally beautiful and "comely," a rather censored word used in Biblical passages for "sexy,"are often part of trade and political agreements and are "sold off" in marriage.
Orphans are particularly vulnerable and susceptible, often "adopted" by older men, who nurture them and depending on how pretty, beautiful or "comely" they are, sell them off, either as slaves or in marriage, as one would sell off a prized piece of art in exchange for some other thing of value.
In this story we see Mordecai gaining power and influence through a young girl who he has nurtured and adopted. These young women were also often used as spies, the lure of their charms was encouraged from a young age and adapted for the purposes of espionage and political influence. Their beauty and their sexual prowess was imperative in order for them to fulfil their obligations to their "adopted" father figure. Esther in all cases fits the profile. She is the ultimate Jewish spy and concubine of the Middle East in Judaic culture.
Not only does Esther fit the spy/concubine role, she also fits the profile of the sacred whore and the Goddess Ishtar. Most of the symbols associated with her, including her name, have been plagiarised and adapted from Sumerian belief into a Judaic myth of… "Biblical proportions."
Esther is called "Hadassah," which means "Myrtle" in Hebrew. The myrtle flower was sacred to Venus, Aphrodite and Ishtar. It was also considered to be a powerful aphrodisiac. We are told that Esther was born Hadassah, which could be read in the context that she was a born aphrodisiac. Many things over time either get lost in translation or are slightly altered from their original form. The word "hadassah" is almost similar to the word "
kadeshah
," which was a sacred prostitute.
If we look at the story of Esther, her upbringing, her eventual position in the King's harem and her later rise to power, she most definitely fits the definition of "kadeshah." She also fits the definition of the Japanese concubine and the many women in European history known openly as "The King's Mistress." Trained for service both physically and intellectually in order to spy on and be of influence in the highest escutcheons of power. As such she is given "Goddess" status.
Ishtar is the Goddess of love, war, fertility and sexuality. The town of Uruk in Babylonia was known as the "town of the sacred courtesans." She is also referred to as the "courtesan of the gods".
The monarchy at the time regarded themselves as "Gods"; King Ahasuerus was seen as the son of the Gods, Esther as his courtesan and concubine, is a courtesan of the "God."
Ishtar is often associated with Isis. But these two "Goddess" figures come from two different nations and represent completely different aspects of women.
--------------------------------------------------------
We deeply respect "Thomas" aka "Thomas Paine" of "Betsy & Thomas" (pen names)
over at AIM 4 Truth, the FORMER military & INTEL OFFICER PATRIOTS
WORKING TO SAVE AMERICA from takeover, hijacking
DESTRUCTION by the "deep state" SWAMP TRAITOR ELITES....
but in this below video, THOMAS is ABJECTLY DELUSIONAL!
At about 28 minutes in the below video, from December 2017,
Thomas gushes that IVANKA TRUMP KUSHNER is an independent & unbiased arbitrator seeking PEACE & JUSTICE in the Israeli Jews - Palestine conflict...
when, in fact, BEYOND A SHADOW OF A DOUBT,
not only does IVANKA TRUMP KUSHNER SUPPORT the GENOCIDAL EXTERMINATION "ethnic cleansing" of EVERY man, woman AND CHILD PALESTINIAN
in Jews occupied Palestine... but as a CHABADNIK JEWESS,
SHE CERTAINLY SUPPORTS the EXTERMINATION (or enslavement)
of SYRIANS, EGYPTIANS, IRAQIS, Lebanese, Jordanians, AND IRANIANS....
so JEWS CAN LIVE OUT their DELUSIONAL FANTASIES that THEY are the MOST POWERFUL EMPIRE in the world, taking up where the Egyptian, Hittite, ASSYRIAN, BABYLONIAN, PERSIAN (and later Greek, Roman, Ottoman, Spanish, Brit...) and other empires left off centuries ago!
As a (converted by marriage) CHABAD JEWESS... IVANKA TRUMP KUSHNER
SUPPORTS the GENOCIDAL ERADICATION of ENTIRE NATIONS of people...
so the INSANE, DELUSIONAL JEWS can take up where the ASSYRIAN EMPIRE left off -
THEY, NOT jewish kings David & SOLOMON, were THE DOMINANT EMPIRE in the region about 1,100 B.C. (green arc in top left of below montage). TODAY, the JEWS are DEMONICALLY working to ACHIEVE their GENOCIDAL "greater israel JEWISH EMPIRE to RULE THE WORLD" through their HOUSE OF SAUD and other GULF ARAB OIL DESPOT DICTATORS PROXIES... who spread WAHHABI, HEAD-CHOPPING MISOGYNISTIC ISLAM through TERROR & religious DICTATORSHIP across the world (black portions of map, top right in below montage) - WAHHABI ISLAM is actually a KINDER, GENTLER VERSION of TALMUDIC JUDAISM! At least Wahhabi, Salafist Islam (nominally) ACCEPTS CONVERTS -
TALMUDIC JUDAISM regards ALL NON JEWS as SUB-HUMANS, AT BEST BEASTS OF BURDENS, SLAVES! to be YOKED, HARNESSED, then slaughtered.... at worst, TALMUDIC JEWS - and CHABAD is the MOST VIRULENT FORM OF Talmudic judaism - LOOK AT ALL non-jews AS VERMIN TO BE ERADICATED
"illuminati SATANISM" is merely
(talmudic) JUDEO SUPREMACISM -
"SACRIFICE" the ENEMY's CHILDREN TO GOD!"
DRIVEN UNDERGROUND in to "SECRET societies"!
As a CHABADNIK JEWESS.... not only does
first daughter IVANKA TRUMP KUSHNER
**SUPPORT** the GENOCIDE EXTERMINATION of PALESTINIANS (Egyptians, Syrians, Iraqis, Lebanese, and even IRANIANS!)
to make way for a JEWS ONLY!
"greater israhell"
DEMONIC Jewish EMPIRE founded on SLAVERY & GENOCIDE
....
...but she ALSO SUPPORTS the SUBJUGATION, ENSLAVEMENT, and EVENTUAL ERADICATION EXTERMINATION of UKRAINIANS.... RUSSIANS, POLES, and ALL OTHER Slavic races! With the JEWISH HIJACKED UKRAINE to become "a SECOND ISRAHELL"!!!
First daughter IVANKA TRUMP KUSHNER - as a CHABADNIK RACIST, JUDEO SUPREMACIST FUNDAMENTALIST - SUPPORTS the SUBJUGATION, enslavement, and eventual EXTERMINATION of UKRAINIANS!! Here the FIRST STEP - PILING UP UKRAINIAN & Russian speaking Ukrainian CORPSES after the JEWESS VICTORIA NOODLEMAN KAGAN ORCHESTRATED $5 BILLION
U.S./ISRAELI instigated COUP in the Ukraine
LAUNCHED A GENOCIDAL TERROR WAR
against Russian speaking Ukrainians....
GETTING CHRISTIAN UKRAINIANS
to SLAUGHTER RUSSIANS, & vice versa,
IS HOW THE JEWS PLAN TO ERADICATE
BOTH nations and TAKE OVER THE WORLD!
IF you think "the Protocols of Zion" is an "anti-Semitic FORGERY"....
you haven't read what deceased
CHABAD "rebe" GENOCIDAL RABBI
menachem sheerson mendelson had to say
about CONQUERING UKRAINIANS, RUSSIANS,
& ALL SLAVS (and eventually ALL EUROPEANS!) !!!
-----------------------------------------
Ex-Chabad Member Exposes
December 19, 2017
https://www.henrymakow.com/2017/12/chabad-trump-family-cult.html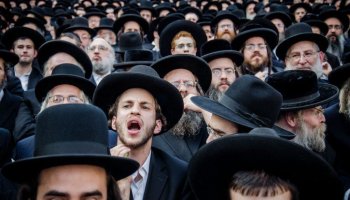 Michael Berg, 32, a dedicated member of Chabad for four years,
believes that this cult's demented vision of Jewish world hegemony is behind the New World Order. With Trump and Chabad-members Jered & Ivanka Kushner in the White House, Chabad is in position to bring about the prophesied cataclysm that will usher in their Messianic rule.
By Michael Berg
(henrymakow.com)
I was born in Israel in 1985. My parents are European Jews (My parents' ancestors had a history in Germany since the middle ages.. )
Physically, my family and I don't look like "typical" Jews - I look like an ethnic German i.e. white skin, blue eyes, blond hair. Physically, I look like any normal White person of Northern-European ("Aryan") origin would look like.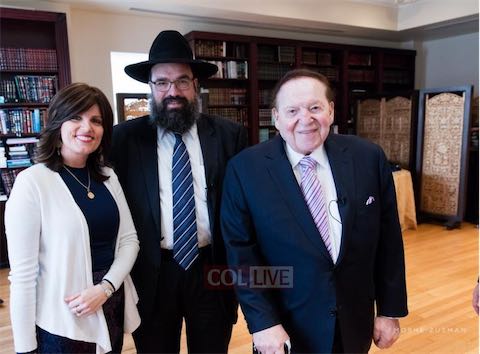 (left, Trump backer, Billionaire Sheldon Adelson)
Why is it important? It's important since Jewish racism against gentiles isn't so much about biological racism (hatred of gentiles because they are physically different from Jews). There are Jews in all shapes and colors. Jewish racism is about a spiritual racism - a belief that Jews have a higher soul than non-Jews and that non-Jews have satanic souls. This means that all religious Jews regardless of their colors and country of origin look at non-Jews as "inferior" simply because they came to believe that non-Jews have satanic souls.
In this article I want to tell you about my experience and my understanding of the Jewish religion in general and a racist cult "Chabad" in particular.
HOW I BECAME PART OF CHABAD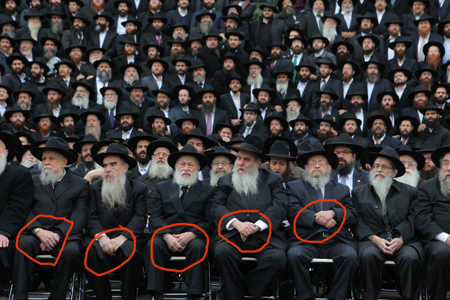 It all began at the age of 20 . At the time I was a religious Jew but I wasn't quite part of Chabad. Then in 2005, while visiting NYC,
I met a Chabad emissary who had introduced me to the movement. He asked me if I could visit "770" in Brooklyn NY. I did. I took part
in their rituals and meetings and over the next 4 years I became a fanatic follower of Chabad.
We used to have meetings in which
we had discussed the coming of the Jewish Messiah and the future world as envisioned by Chabad and the Jewish religion - a
world where the Jews are the supreme masters of the Earth where every individual Jew has as many as 2,800 gentile slaves, a world,
where the only purpose of non-Jews is to SERVE Jews. On the other hand, the Jews are considered as the "Seat Of God".
WHAT AND WHO IS CHABAD?
I'll describe Chabad the way I see it given my past membership in it. Chabad is a racist organization - a Jewish supremacist missionary cult whose main goal is Jewish total superiority over the "Goyim" and their enslavement.
Its central commandment is fulfilling the commandment "Breaking Through" i.e. making the world safe for Zionist world domination.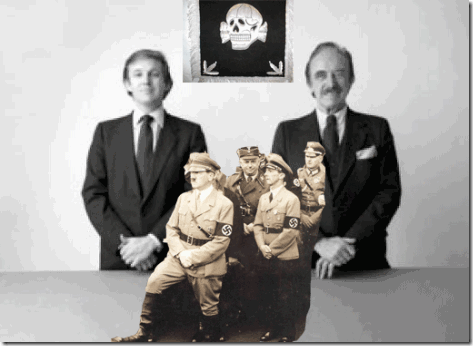 (Trump & Nazis & Chabad -same crossed hands)
Chabad train their young to be emissaries when they grow up. Being "emissary" in Chabad terms means spreading their racist
ideology to Jews all over the world - especially those who are not practicing Judaism. They
give ideological and moral support for the Zionist Globalist Agenda.
They see the enslavement of the "Goyim" through the international Jewish banks
and the international politics as serving their Messianic prophecies - a future world where the Jewish NWO controls all the nations of the world.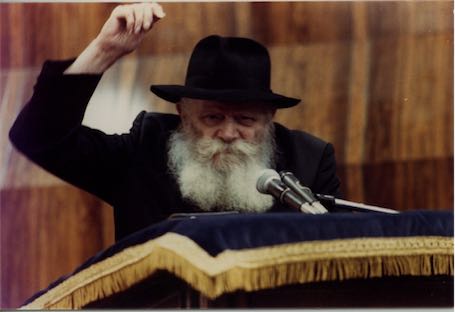 Under their leader Rabbi Menachem Mendel, (1902-1994) left, the movement established a network of nearly 4,000 institutions that provide
religious, social and ideological support to Jews in over 1,000 cities, spanning 100 countries including all US states.
JEWS ARE GOD. GENTILES ARE INSECTS WHOSE ONLY PURPOSE IS TO SERVE JEWS OR DIE:
According to Chabad, Jews themselves are "God". Usury is permitted and encouraged against non-Jews (This is the
motive of the NWO bankers). Chabad's movement book "The Tania" is all about the Jews being God on Earth and non-Jews as being
no more than animals - inferior without souls. If they do have souls their souls are demonic and satanic and originates in the "Klipot A'thmeot"
i.e. the unholy spheres or the "Sitrha Achra".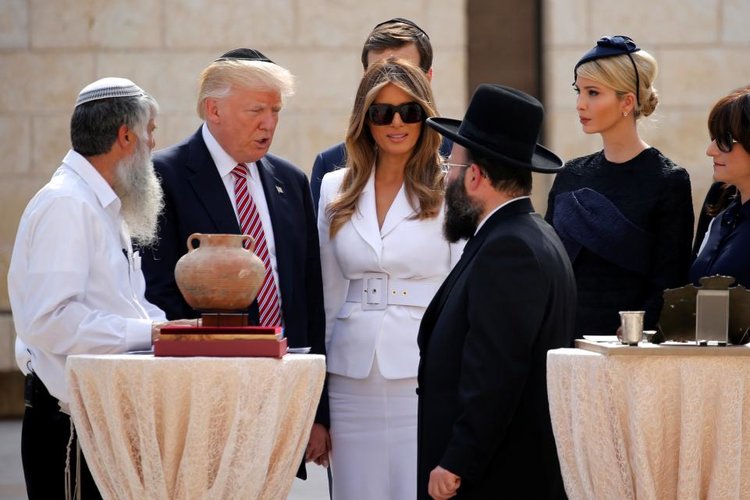 (Chabad members, Kushners have Trump's ear.)
Gentiles are animals without souls in their eyes. The "Jewish Soul" is God incarnate. Every Jew is a "God" in flesh.
The entire universe including the trillions of galaxies, stars and planets were created solely for the Jews and by the
Jewish God YHVH who is actually a manifestation of the Jewish people itself. One finger nail of a Jew is worth more
than the entire non-Jewish world populations (That includes Europeans, Muslims, Asians and Africans)
according to Chabad...
THE NWO AGENDA
Chabad is nothing more than a manifestation of the Jewish racism that fuels the NWO agenda. Israel's founder and former prime minister
David Ben Gurion's envisioned the Jews as being at the center of the One World Government (Illuminati Satanic NWO)
dream. This will be the fulfillment of the promises of the Bible where the Jews will be the controllers and rulers of all the nations of
the world in the time to come.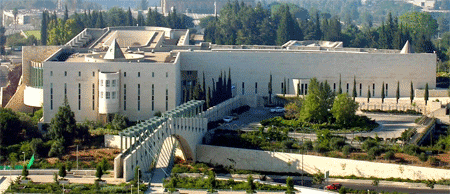 The Jerusalem Supreme Court with the illuminati pyramid and the mark of "All-Seeing-Eye" was built to support this
agenda as envisioned by Ben Gurion :
"In Jerusalem, the United Nations (a truly United Nations) will build a shrine of the prophets to serve the
federated union of all continents; this will be the seat of the Supreme Court of Mankind, to settle all controversies
among the federated continents, as prophesied by Isaiah..."
Guess who funded and built the "Supreme Court"? The controllers of the world banks i.e. the Rothschilds of course!
The Jewish Racist and supremacist agenda is blatantly in your face... It is simply a matter of 2+2=4.
Cabala and Satanism are a means to weaken their host nations so they can more easily control
these nations by degrading them. This is how they maintain their money monopoly - by breaking down race, nation,
family (heterosexuality) and belief in a higher spiritual purpose to life (i.e. God - Not religion! ). Hence we become
more materialistic and less spiritual (look at modern "art" for example) and are then more easily controlled and enslaved
by them as people with no meaning in life don't fight back. This is the Eye Of Sauron. The All-Seeing-Eye. "One Ring To Rule Them All"...
WHY I LEFT CHABAD AND JUDAISM BEHIND ME
I left Chabad since I had an experience which made me feel at the core of my being that this hatred of Chabad and Judaism (or Islam and ISIS for that matter) is
not coming from God but from man's ego and fears .
I left Chabad due to a spiritual awakening I had which I will expose the readers to in my upcoming article........
In the meantime I hope that White Europeans and those who are against White genocide understand that the reason why the White race is being attacked today is because of the one ultimate racist ideology on the planet : Judaism.
JEWESS California Senator BARBARA BOXER sponsored
the
"AMERICA UNDER ISRAELI GENOCIDAL JEWS"
act
....
that OBLIGATED AMERICANS to SPEND TRILLIONS of DOLLARS
SUPPORTING ANY ATROCITY perpetrated by the JEWS ONLY STATE!
The JEWS ARE IMPOSING THEIR RELIGION
on us as a MANDATORY TAX
in the name of "national security" -
AFTER THEY BOMBED OUR NY WTC towers on 9/11 2001
and perpetrated dozens of other
"false flag"
attacks!
FIRST DAUGHTER IVANKA TRAMP Kushner SUPPORTS this
HORRIFIC "israeli JEWS OVER AMERICA"
and FALSE FLAGS TREASON cover-up agenda!!!
There can be NO DOUBT:
HOLLYWOOD is RUN BY JEWS!
And - ironically! -
AS MUCH AS fundamentalist JEWS HATE non-Jews;
and as much as the ENTIRE JUDEO RELIGION
is based on HATING, SMITING,
& EXTERMINATING the "idolaters" neighbors
(after first moving in to, courting, marrying, and posing as members of that soon-to-be exterminated "idolater" non-Jewish culture, tribe or nation, see "the Jews move to Egypt beseeching food and aid... later HATE & REVILE Egyptians and WISH DEADLY PLAGUES on them!" bible so-called "Exodus" story)
IT IS THE JEWS in HOLLYWOOD
who RESPECT the ANCIENT PAGAN "mystery religions
"
-
for "IMITATION is the sincerest form of flattery"
AND BOY, DO THE HOLLYWOOD, NY, Chicago, London, Paris, Brussels, Amsterdam, Zurich, D.C., & etc.
JEWS LOVE to COPY the EXTRAVAGANT PAGEANTRY
they ascribe to ancient Babylon!
CENSORSHIP of Alex Jones' InfoWars by Google, Jew-Tube, APPLE, and other Internet "platforms" APPLAUDED by FILTHY STINKING 'PNAC' NEO-CON JEW WAR PIG traitor COMMISSAR BILL KRISTOL !! ...because... the JUDEO SUPREMACIST IDEOLOGY and SOCIAL STRATEGY - SABOTAGE! of HOST NATIONS & CULTURES - can NOT BE DEFENDED in rational discussions or free speech debates.
While BILL KRISTOL represents the more "atheistic" brand of JUDAISM as opposed to the "strictly observant" FUNDAMENTALIST, ORTHODOX, & CHABADNIK flavors of Judaism....
BOTH the "moderate" JEWS AND the CHABADNIK INSANE JEWS SUPPORT CENSORSHIP - PURGING & DESTROYING their opponents... because the ESSENCE of JUDAISM is
CRUSHING, DESTROYING, "ethnically cleansing" ANYONE THEY COME IN TO CONTACT WITH -
i.e. COVETING WHAT OTHER PEOPLES HAVE (Egypt!) - then MIGRATING THERE to COLONIZE that region, then DISPLACING the host peoples.... just like the HORRIFIC bible "Exodus" and "promised lands" tell us!!
FILTHY, STINKING, GENOCIDAL RACIST IRAQ WAR PIMPING JEW
(given that BILL KRISTOL is SO STUPID, we're giving this despicable pig the benefit of the doubt on being PART OF the MOSSAD 9/11 TREASON/TERROR ATTACKS - we don't think the NETANYAHU, SILVERSTEIN, CHERTOFF crew let him in on the details)
CHEERS google, FAKEBOOK, & APPLE CENSORING ALEX JONES' InfoWars
because this STUPID TRAITOR JEW DOESN'T BELIEVE IN FREE SPEECH
or FREE & FAIR DISCUSSION of U.S. policy....
the INSANE JEWS are SHOWING THEIR HANDS....
BLOODY, HUMANITY LOATHING FANGS!
President Trump: The "The 'DEEP STATE' CONSPIRED to PREVENT MY PRESIDENCY!"
YES! HE IS CORRECT!
but... the "deep state" is his OWN PALS,
and HIS OWN FAMILY!
i.e. his CHABADNIK, BLATANTLY JUDEO-SUPREMACIST son-in-law, eldest daughter Ivanka, and her family;
plus the Israeli, plus President Trumps OWN NY Trump Corp.JEWISH LAWYERS, FINANCIERS, & administrators; PLUS President Trump's OWN PAL,
JEWS ONLY STATE prime minister
bibi "KING BIBI!" NETANYAHU
and the JEW BILLIONAIRES (and Rotschild TRILLIONAIRES) behind the so-called "Federal Reserve," Bank of England, ECB European Central Bank, World Bank, IMF, & BIS bank of intl. settlements - i.e. the JUDEO CONTROLLED GLOBAL FINANCIAL EXTORTION SYSTEM...
President Trump is correct: "the deep state"

DID CONSPIRE to PREVENT and
then DESTROY his presidency!
President Trump is correct: "the deep state"
DID CONSPIRE to PREVENT and then DESTROY his presidency!
What he - and MILLIONS of even his most ardent, most informed supporters DON'T GET... is that
"the deep state" IS and always has been
THE JEW WAR LOBBY,
which in turn is a wholly owned subsidiary of
the JEW BILLIONAIRES Central Bankers
GLOBAL DEBT EXTORTION cartel!
Paul Warburg - son-in-law of JACOB SCHIFF, the ROTSCHILDS' LEAD LIEUTENANT over ALL of North America in the late 1800s, early 1900s - was not only well known as "the GODFATHER" of the so-called "FEDERAL RESERVE" privately owned DEBT EXTORTION central banking system...
but the FED's OWN WEBSITE CREDITS PAUL WARBURG with being the FOUNDING FORCE behind the CFR,
"Council of Foreign Relations" which indisputably
CONTROLS & DIRECTS U.S. "foreign policy"
i.e. WARS & GLOBAL ECONOMIC
IMPERIAL resource-extraction
& slave-labor EXTORTION!
CFR - the "Council on Foreign Relations" - America's ECONOMIC & MILITARY IMPERIALISM
pimping, FOREIGN POLICY determining "globalist" lobby group...
was FOUNDED BY JEW FINANCIER and Rotschild's LEAD LIEUTENANT in America JACOB SCHIFF's son-in-law PAUL WARBURG...
says the FEDERAL RESERVE's OWN WEBSITE!!
WHAT does the "DEEP STATE" WANT?
MORE WARS, MORE ECONOMIC EXTORTION,
and MORE POLICE STATE COMMISSAR/GESTAPO ruthless, mass-homicidal, SURVEILLANCE, SPYING, & GULAGS DICTATORSHIP POWERS to ENFORCE the above two!
and just WHO IS PIMPING
those WARS FOR the "DEEP STATE"?!
WHY - the JEW MEDIA, the ISRAEL, AIPAC JEW WAR LOBBY,
the JEW NEO-CONS,
and the MORE RELIGIOUS a JEWISH TEMPLE or organization is....
the MORE FERVENTLY THEY SUPPORT the JEWS WARS...
the JEW WARS of EXTERMINATION of WHOLE POPULATIONS,
not only in the MIDEAST - Egypt to SYRIA to IRAQ, IRAN, YEMEN, LEBANON, & etc....
but IN GREECE, against SERBS, against UKRAINIANS, and ultimately AGAINST RUSSIANS... AND EUROPEANS as well!!
WHO was HILLARY CLINTON's MOST ARDENT
"deep state"
BACKERS?!
the SOROS, ROTSCHILDS, AIPAC,
ISRAEL JEW WAR LOBBY!
WHO is PRESIDENT TRUMP's
MOST FEROCIOUS CRITICS?!
the soros, rotschilds,
ISRAEL, NETANYAHU,
AIPAC, GODDAMN-SACHS,
NY, Chicago, San Fran, DC, & HOLLYWOOD
JEW corp. MEDIA MOGULS & other
JEW WAR LOBBY
JEWS
!!
WHERE did Hillary get her
"SUPPORT TERRORISTS to DESTROY SYRIA!"
TALKING POINTS & POLICY DIRECTIVES FROM??
FROM the JEW BILLIONAIRES
OWNED & controlled "CFR"
JEW WAR LOBBY MASQUERADING as
an "American" FOREIGN POLICY lobby!
PRESIDENT TRUMP's DAUGHTER -
CHABAD JEWESS IVANKA Trump KUSHNER -
is on EXACTLY THE SAME PAGE -
"KILL SYRIANS, PALESTINIANS, IRAQIS, IRANIANS, RUSSIANS, UKRAINIANS, and EVERYONE ELSE!" - fbo, "for benefit of" 5 million lousy, stinking, back-stabbing, ANTI-AMERICAN, CHRISTIANS LOATHING JEWS in ISRAHELL
as HILLARY CLINTON is on!!
====================================