excellent ZeroHedge article gives the MEREST OUTLINE,
the whispiest details of the GROSS CORRUPTION
if not ABJECT TREASON & CRIMINALITY
of Broward County's Jewish, "israel UBER amerika"
SHERIFF SCOTT ISRAEL.. and how Deputies in the Deputies Association
HOPE TO HOLD a NO CONFIDENCE VOTE for Sheriff Israel's
MANY SUSPECTED CASES of MALFEASANCE -
code words for CONSORTING WITH CRIMINALS
and DERELICTION OF DUTY.


The problem NOT STATED IS THE ELEPHANT IN THE ROOM!
SHERIFF ISRAEL, along with JEWISH CONGRESS-WOMAN DEBBIE WASSERMAN
and JEW "Deputy" ATTORNEY GENERAL ROD ROSENSTEIN - are ALL CRIMINALS whose actions GREATLY BENEFIT their FELLOW JEWISH CRIMINALS -
in Florida, in New York, in Washington D.C.... in Hollywood, in Chicago, in LA,
and across the entire DEBT RIDDEN, SOROS SABOTAGED, ROTSCHILDS RULED & ENSLAVED nation. *THEY* are ALL IN PANIC MODE, and AREN'T ABOUT
to ALLOW ONE OF THEIR SIGNATURE APPARATCHIKS,
CRIMINALS IN HIGH PLACES to be removed without a huge fight!
Broward Sheriff Scott Israel To Face
No-Confidence Vote
For "Suspected Malfeasance"
ZeroHedge.com Apr. 21, 2018
https://www.zerohedge.com/news/2018-04-21/broward-sheriff-israel-face-no-confidence-vote-suspected-malfeasance
"

The Broward County Sheriff's Office Deputies Association has scheduled a NO-CONFIDENCE VOTE for [ISRAEL UBER amerika JEW] SHERIFF SCOTT ISRAEL for "many instances of SUSPECTED MALFEASANCE" among several claims that his conduct leading up to, and following, the Feb 14th Parkland school shooting.

"
How does DRIVING a 1-million dollar luxury sports car
help "PREVENT CRIME" in a county where
RICH TOURISTS in LUXURY RESORTS
can inhale COCAINE BY THE KILO
and consort with PROSTITUTES by the gross?!
You don't need to be an "expert" in "law enforcement" to
know that YOU CAN FIND COCAINE in
EVERY NIGHT-CLUB... and LUXURY RESORT
here IN AMERICA
...
all while
CORRUPT COPS, SHERIFFS, JUDGES, PROSECUTORS
and BRIBES-TAKING LEGISLATORS
throw the book at some offenders.. but let
the HIGH & MIGHTY GO SCOTT-FREE for the SAME CRIMES
THIS
- "dual justice system"
= MASTERS OVER SLAVES
**IS** the DESIRED JUDEO SOCIAL SYSTEM
for EVERY nation, peoples, and society the Jews enter...
and DESTROY,
CONQUER by INSIDIOUS SABOTAGE
& TREACHERY from within by
BRIBERY, CORRUPTION, BLACKMAIL,
EXTORTION & by operating CRIMINAL GANGS
posing as "government" and "law enforcement"!
Union president Deputy Jeff Bell announced the upcoming vote on Friday. Of note, Florida governor Rick Scott can fire Israel for "malfeasance, misfeasance, neglect of duty (or) incompetence."
To that end,


[Broward County's LATEST INSANELY CORRUPT SHERIFF Scott]


Israel is accused by the Association of
"many instances of suspected malfeasance, misfeasance, failure to maintain fiduciary responsibility by the sheriff, failure to properly investigatepossible criminal conduct by members of his senior command staff and the lack of leadership that has crushed morale throughout the agency."
Seems like the Deputies Association is about to give Governor Scott exactly what he needs to get rid of Israel, right down to the official language.
While multiple agencies failed in the lead-up to the Parkland shooting, the Broward County Sheriff's Department – led by Sheriff Israel, had directly interfaced with self-confessed killer Nikolas Cruz – having received
nearly 50 calls
about him.
Perhaps resource officer Scot Peterson (the Broward Deputy who ran from the shooting) failed to commit Cruz for mental evaluation under Florida's Baker Act.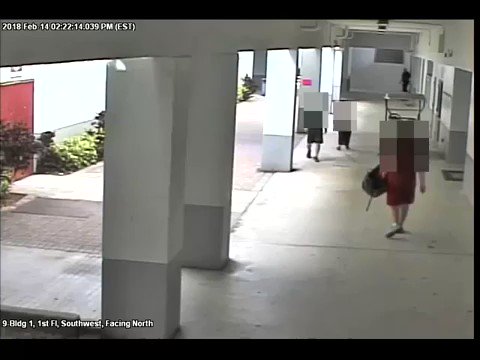 Israel has refused to take responsibility for his behavior before or after the shooting. Under calls to resign, the Sheriff said:
"I gave him a gun. I gave him a badge. I gave him the training. If he didn't have the heart to go in,that's not my responsibility," said Israel of Peterson's failure to face Cruz during the shooting.
As Ben Domenech of The Federalist noted in February, when Israel was accused of corruption in the past, he responded with a paraphrased quote from Game of Thrones:
"Lions don't care about the opinions of sheep."
The manner of corruption, though, is illuminating: essentially, it amounts to Israel's use of the Broward County office as a patronage program, hiring unqualified political allies for cushy county public relations jobs. –
The Federalist
From the Sun Sentinel:
The outreach workers, who mainly attend community events, are in addition to political activists and others Israel hired into community affairs roles, writing and designing printed pieces about the agency, and sharing it on social media. The employee log shows six hired into community affairs roles, their salaries totaling 388,729. Israel's opponents say he's built a publicly funded political machine, paying back supporters with jobs and using them to keep him in office. They say the money could be better spent, particularly after the sheriff complained about not having enough funding to secure the county courthouse, where a murder suspect recently escaped.
Israel was also
accused of
taking donations from a convicted felon in the "Cuban Mafia"…
Israel was criticized in 2014 after a political action committee supporting his re-election campaign for sheriff accepted thousands of dollars in donations
from a convicted felon
.
The donor, Yoram Izhak, was indicted for allegedly being part of an organized crime ring known as the "Cuban Mafia" that "was allegedly involved in cocaine trafficking, arson, gambling and murder," according to Local10.
Meanwhile, Israel has morphed into a mouthpiece for the gun control movement.
Between Israel's checkered past
and his conduct surrounding the Parkland massacre,
it appears that the Deputies Association
is paving the way for a new sheriff
to take the helm in Broward County
[IF the entire SOUTH FLORIDA JEW MOB

doesn't

SHUT THEM DOWN!

that is...]
https://www.zerohedge.com/news/2018-04-21/broward-sheriff-israel-face-no-confidence-vote-suspected-malfeasance
===============================